Last week I went to Chicago for the '22 Sitecore Symposium and my fifth in-person MVP Summit! The theme for this year being composability, with the introduction of no less than four new Sitecore products: XM Cloud, Search, Connect and Content Hub One. It really has been an awesome experience of which I'd like to share some highlights with you.
Great to be back!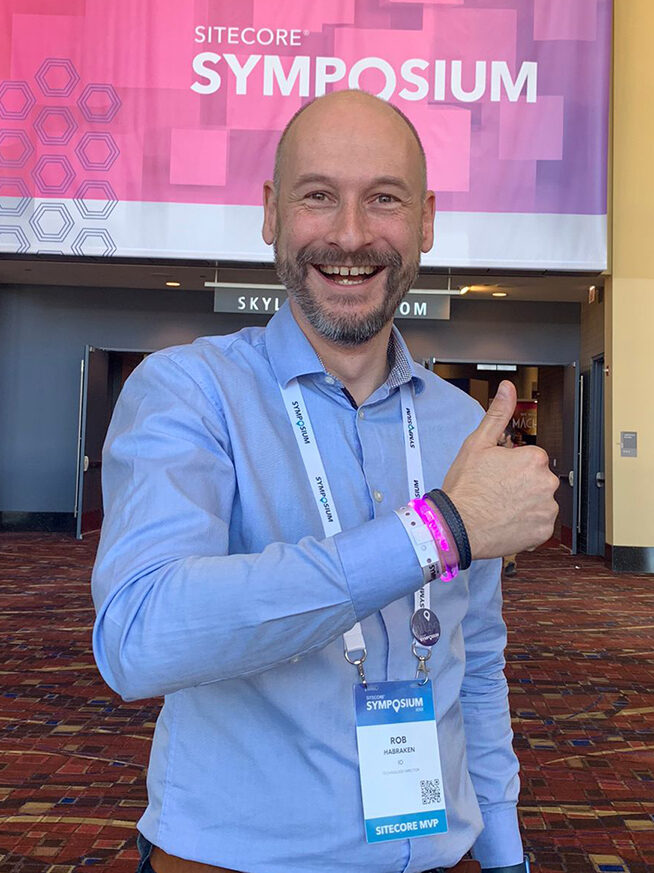 Ten years ago I visited the Sitecore Symposium for the first time in Amsterdam and I never skipped an edition since. Barcelona, New Orleans, Las Vegas and twice in Orlando. So for one thing I really missed the vibe and the community for the last two years – the virtual events just weren't the same. For me, what makes this event so successful, is that you can reflect on all the news, content, challenges and possibilities, with fellow developers, agencies, with Sitecore product owners and with people from different expertises and backgrounds like strategy and marketing, from partners to customers. This, and the reunion with all the friends I've made all over the world in the last decade, made the Sitecore Symposium 2022 in Chicago stand out above all the rest. It's so great to be back in person again!
The future is composable

The Composable DXP that Sitecore is building is starting to take shape more and more, and together with some great commitments, Sitecore announced an additional four new products to further complete their composable stack.
Composability means choice, flexibility and unparalleled time to value. It allows you to create the digital experience stack that is right for you and your business, by delivering plug and play functionality. It ensures your stack is future-proof and easy to adapt. Based on this believe, Sitecore re-imagined the future of the Composable DXP.
Each of the products, represented by the hexagons in the picture above, is MACH compatible. They're microservice based, API first, Cloud native and headless. This means that they can plug and play really easily together, like LEGO bricks. You can assemble your unique stack with bricks from Sitecore,
or you can choose to use bricks from another vendor.
Sitecore's commitment is that each Sitecore product will be best-in-class and works stand-alone in a best-of-breed stack. But they're also developing their products to be better together, providing a full end-to-end, fully integrated DXP capability for customers who want to partner more strategically with Sitecore. And in our case of course, with iO. I really like how this vision matches ours. As iO is an end-to-end agency, aimed at discovering the infinite opportunities in our ever changing market together with our customers.
Whether you buy one product or ten products from Sitecore, our commitment remains the same: we will be a friendly neighbour in your tech stack, and offer open API's that allow you to connect to other vendors easily.

Dave O'Flanagan, Chief Product Officer at Sitecore
Three Clouds
Sitecore introduced the concept of Clouds to group the products of their composable suite, making them easier to understand, making the portfolio more accessible. The purple hexagons in the picture above make up the Content Cloud, the red make up the Engagement Cloud and the teal make up the Commerce Cloud.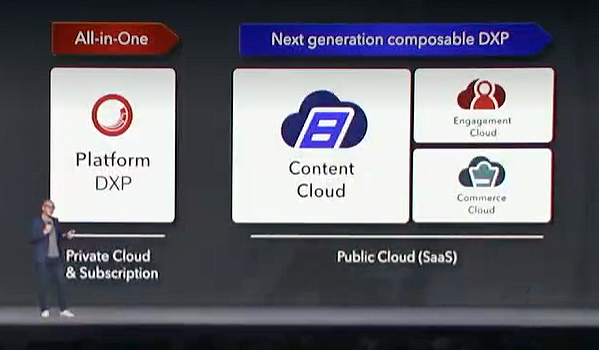 The Content Cloud being the center of gravity in the Sitecore portfolio, the heritage of Sitecore where they have market leading capabilities, providing tools for managing the content lifecycle end-to-end. The Engagement Cloud provides the customer data, the analytics, the AI and personalization, to power the intelligence behind the digital experience. Whereas the Commerce Cloud is fully focused on delivering a headless commerce platform with powerful search and merchandize capabilities.
… and a platform DXP
An important side note here is that, although Sitecore is heavily investing in and innovating their composable stack, they underlined that they also continu to invest in their All-in-One Platform DXP, keeping it as a key part of their product portfolio. They enforced that statement by announcing the release of Sitecore 10.3 in a couple of weeks. Of course, Composable products can be in used in combination with the Platform DXP as well. A powerful combination we've seen more often is combining XP with the Content Hub DAM capabilities.
XM Cloud
Officially, XM Cloud was released this summer, in a sort of public beta kind of way, but on Symposium it has been demonstrated and further explained in a number of sessions and it is released to the public. It is a next-gen Enterprise CMS, fully headless, and based on the SaaS-principle including auto-upgrades. In a a way it is their original CMS re-architected for the Cloud. Functionally it is based on the platform XM version, but it's extended with features from Personalize, like embedded basic in-session personalization, built-in real-time analytics, and as I've heard also basic multivariate testing in a future release. I think this will be the product flagship of Sitecore going forward.
In terms of innovation on their former platform product, XM Cloud is of course Cloud-native, but also fully decoupled and headless, with a completely new suite of REST and GraphQL interfaces for content management and delivery. It's endlessly scalable and also version-less, so it should be the last Sitecore upgrade that you will ever do. It is compatible with modern front-end architectures like Jamstack, Next.JS and serving content through a CDN. With all these developments combined, they re-tooled the CMS for the next generation of developers.
Sitecore Pages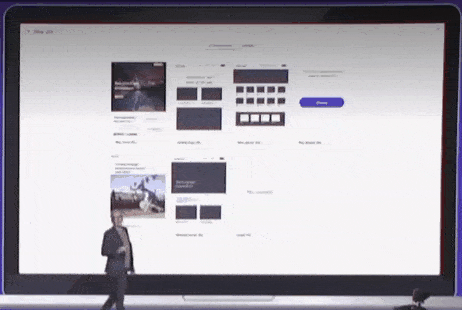 Together with XM Cloud, Sitecore developed a completely new authoring environment to make marketing and business users more productive. It contains tools for site management, component authoring and content editing in a more modern and intuitive user interface. It supports site templates and themes, so it not only is a huge step forward opposed the Experience Editor being faster and less complex to use, it also introduces new capabilities making it way faster and easier to set up a basic site structure. The component builder for example allows you to visually create JavaScript web components that work natively in a headless environment. With static site generation and publication towards Vercel using Next.JS, you wouldn't even require any IT infrastructure.
I really think the combination of XM Cloud and Sitecore Pages would be a great fit for most Sitecore customers currently running XP, as it covers all of their basic needs and more, while being easier to maintain both in terms of hosting / infrastructure as well as considering the upgrades. This makes XM Cloud the modern successor of XP and not XM. In terms of features, it falls in between those products, but if you look at the typical XP implementation, XM Cloud surely matches the required capabilities while being a better fit in modern MACH architectures, with better adaptability, agility, integrations and front-end performance. Because the integration for the basic personalization features in XM Cloud use the same technology as the separate product Sitecore Personalize, future upgrades to that product for more advanced personalization features doesn't require any technical changes, it really only takes a click of a button. And it's exactly that level of composability, that level of seamless integration, that makes XM Cloud a powerful stepping stone into the world of a Composable Digital Experience Platform.
Cloud Portal
Next to Pages, Sitecore also released the Cloud Portal together with XM Cloud. Because customers would like "the integrated feel of a monolith, with the agility and upgradeability of a Cloud based composable solution". The Sitecore Cloud Portal offers centralized administration and connectivity within the Composable DXP, with single sign-on across all Sitecore products using Sitecore Unified Identity. In the future some Sitecore products may even be full self-service to set up from within this portal. And you can also use it as a portal for your composable stack for other products combined with Sitecore.
Content Hub One
Whereas XM Cloud could be seen as an advanced and rich CMS with layouting, personalization and analytics built on headless technology, the new release of Content Hub One brings you a radically simple and agile headless CMS. It uses a simple content database approach and can be seen as a pureplay headless CMS; the way the market would define it. It is built on the Content Hub platform (hence the name), so performance and scalability is on par, but this also means that is easily upgradeable to Content Hub DAM or other Content Hub products might your requirements extend over time.
Content Hub One may not be a direct match for current Sitecore customers, but it could fill in gaps in your architecture or attract new customers or business cases. Like a temporary campaign site or the content engine behind a mobile app.
Search
The third new addition to the composable stack is called Search. It is a powerful AI based Content search that you can use to add search capabilities to any site you like. With the acquisition of Reflektion and Discover, Sitecore acquired strong search expertise that they now abstracted away from e-commerce products and applied to content also. It's already live on sitecore.com already.
Search provides fast predictive search for relevant content. It gives the marketing team full control over faceting, guided navigation and promotions via an intuitive back-office UI, which you can manage without technical knowledge. You can view search and content analytics to help you understand your search performance. As mentioned it can index content from any CMS, all federated into a unified search index. So you can use it for multiple sites whether they are Sitecore powered or not. Again, based on the promise of being a friendly neighbor, a vital characteristic in a composable stack.
Connect
To wrap it all up, or to tie up the loose ends, Sitecore announced Connect, an Integration Platform as a Service (iPaaS) product provided by Sitecore, in cooperation with Workato. Workato is a leader in this space and offers proven enterprise scale functionality with lots of pre-built connectors. Connect will offer Out-of-the-Box connectivity to all of the Sitecore products and drag and drop configurability in a low-code environment. It will be play a valuable role in the composable stack for easily maintainable integrations in and out of your Composable DXP and I can't way to play around with it!