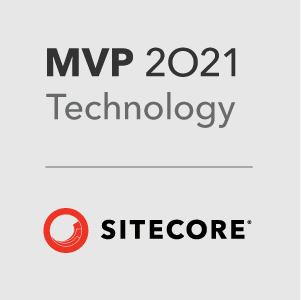 This year I am celebrating my sixth year anniversary as a Sitecore MVP! I am thrilled to announce that I have been named Most Valuable Professional (MVP) by Sitecore for 2021! As a Technology MVP I am one of only 170 Sitecore professionals worldwide that have been awarded with an MVP title in this category. It really means a lot to me to be part of such a great community and to be able to contribute to sharing knowledge within this community.
Last year I especially focused on Data Privacy and Data Retention. I developed two Sitecore modules for automatic data disposal: one that extends the Sitecore Automation Plan functionality with sliding expiration for Experience Profiles, and one that includes Sitecore Forms data disposal into the Right-to-be-Forgotten functionality for Sitecore 9! I also started development on a boilerplate to deploy Sitecore 10 to a hybrid PaaS / AKS environment. It was a challenging year for everyone but I am proud of how we still managed to share and connect as a community!
For more information check out the announcement by Sitecore and the full list of 2021 MVP's. I hereby want to congratulate all my fellow MVP's of 2021 with their excellent achievement and I'm looking forward to another exciting and promising Sitecore year. Hopefully, we'll meet again in 2021!