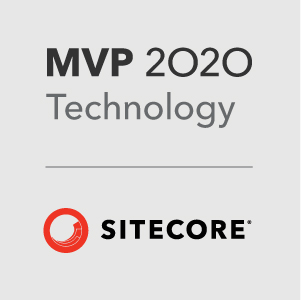 This year I am celebrating my fifth year anniversary as a Sitecore MVP! I am thrilled to announce that I have been named Most Valuable Professional (MVP) by Sitecore for 2020! As a Technology MVP I am one of only 154 Sitecore professionals worldwide that have been awarded with an MVP title in this category. It really means a lot to me to be part of such a great community and to be able to contribute to sharing knowledge within this community. Last year I mainly spent my time on Azure Functions and Serverless architectures, Cloud architectures in general, extending Sitecore topologies on Azure for enhanced functionality and security – like setting up an Azure Gateway on PaaS, and some fun personalization expirements like a Sitecore controlled speech interface for an Apple Watch. All of which I was able to share on my blog and present on SUGCON and the Sitecore Symposium, among other Sitecore events, which has been a great experience!
For more information check out the announcement by Sitecore and the full list of 2020 MVP's. It's great to see the contributions and community activity increasing every year and again, The Netherlands is well-represented with 12 MVP's!
I hereby want to congratulate all my fellow MVP's of 2020 with their excellent achievement and I'm looking forward to another exciting and promising Sitecore year!