This year's Sitecore Symposium in Orlando has been yet another vibrant edition, packed with inspiring keynotes, educational and in-depth breakout sessions, and a lot of interesting conversations with fellow Sitecore-minded developers, marketers and customers. The amount of breaking news announcements may not have been as high as last year, with Horizon, Cortex, Host, the Stylelabs acquisition, Sitecore Identity and the Universal Tracker… but we have surely seen some awesome developments that clearly outline the future of Sitecore.
SaaS
The announcement that caused a bit of a stir was the fact that Sitecore shared its vision on SaaS. However, it was only the announcement of a (probably) separate offering that Sitecore envisions in the (near) future. No real details could be shared yet. From a technical point of view, the current software is not yet suited for being offered in a SaaS model, so it will probably take some time before a new branch of Sitecore tools and services are ready to be delivered this way.
I have heard people talking about SXA on Managed Cloud being a step up to this new offering, but I have reasons to believe they are not thinking in the right direction. Though, it fits in the approach of higher abstraction and simplifying implementation, a logical step when looking at competitors and other developments in our field of business. Besides, Content Hub is already a SaaS offering, so it would be obvious for Sitecore to (re)develop their core content management capabilities towards that direction as well.
I guess we will have to be patient, but we in the meantime, our architectures – in terms of separation of concern, micro-services approach and thinking Cloud native – could already gear up towards this vision. That, in my opinion, is a bright idea anyhow!
Auto-personalization
Another great development, is that Sitecore brings the application of Machine Learning to a whole new level, by offering auto-personalization basically right out of the box (though it might require some additional licensing depending on your subscription tier, but pricing on this subject is not yet disclosed). It will be a feature you can enable in the personalization dialog of a component. Subsequently, Sitecore AI will start testing automatically, selecting the best content to create a custom experience for each customer, every time.
Of course, you need to provide the content and variations, and you need to configure your goals and engagement value properly, to let Sitecore AI (or Machine Learning in general for that matter) know when it is successful. But still, this feature will make personalization way more accurate and diverse, with only a fraction of the effort required from you as a marketer.
Content Hub
At Symposium, the new Content Hub version 3.3 has been announced, offering a more integrated solution for Digital Asset Management (DAM), Content Marketing Platform (CMP) and Marketing Resource Management (MRM) capabilities. Reporting tools for Content Hub have been improved, enabling the marketer to get more insights into how their media performs, and I think it won't be long before Content Hub will (optionally) take the place of the media library within Sitecore.
Sitecore 9.3 improvements
In December, Sitecore 9.3 will be released. Auto-personalization will be part of that initial release. The improved Horizon editor that was shown at Symposium will not, but I suspect one of the update versions does. Horizon will be the new Experience Editor experience (though running along-side for the first release(s)) that is more light-weight and contains cool new features like auto-save, undo and redo, and device simulation (which on itself isn't really innovative, but still, a great improvement for content editing).
Apart from updates on SXA and JSS, Sitecore 9.3 comes with an Installation Assistant (SIA) that enhances the installation experience with a simple GUI. Furthermore, some house-keeping is done by removing redundant and out-dated features, like Lucene support. Performance and reporting will be improved, and the new Page mode IsExploring will be released for developers to tap into to customize the editing experience.
Sitecore Forms
The new version of Forms will offer the ability to delete Form data, which wasn't possible yet (via the Sitecore Forms GUI), and the platform bot detection will now be used out of the box to verify human input, rendering the need for using Captcha elements unnecessary. Also, the Submit Action to redirect to an external URL after successful submission of the Form is added. I really like how the Forms 'module' is improved by each new release, it came a long way but it now is a very nice, versatile and convenient addition to the Sitecore toolbox.
My breakout session about Serverless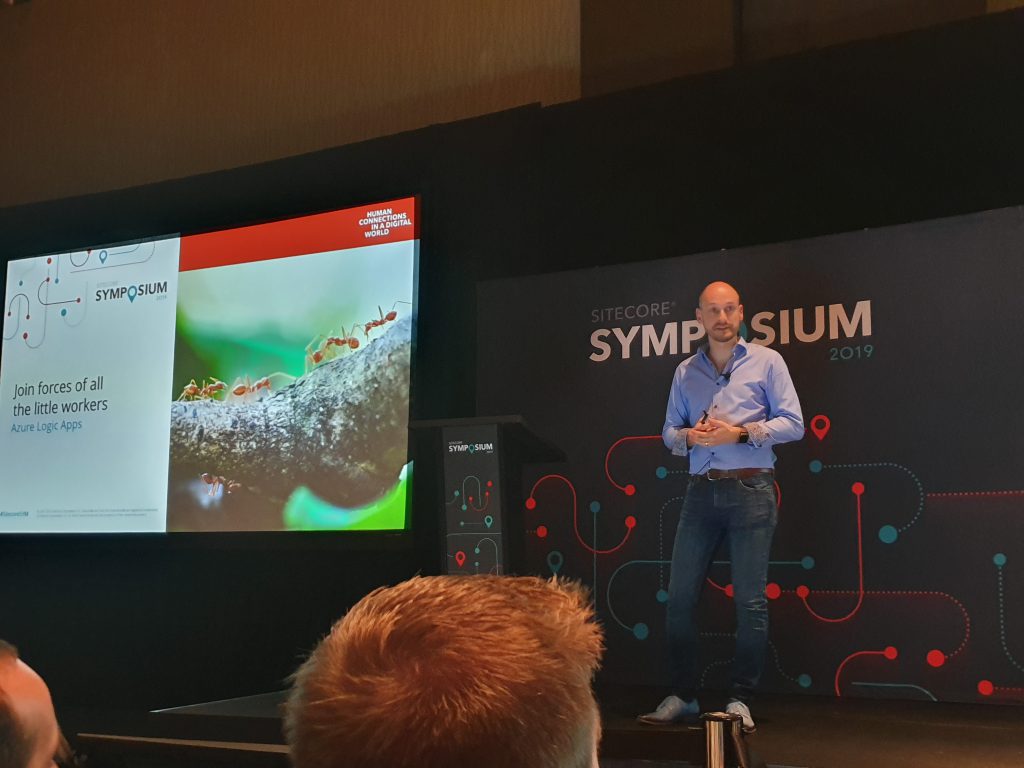 Cloud is gaining ground and the Azure stack is being adopted more and more — which means the micro-services approach of Sitecore's architecture that enhances separation of concern, allowing for better maintainability and scalability, could also find its way into our implementations. How can we leverage all these new capabilities, stepping away from implementing Sitecore solely from a monolithic perspective? And what are the benefits and caveats of this approach?
In this session I demonstrated how to build features on top of Sitecore using Functions-as-a-Service (FaaS) and Backend-as-a-Service in a fully serverless architecture, while discussing the use and applicability of such services in our application landscapes.
I really enjoyed speaking at Symposium, being able to contribute to sharing knowledge and sparking some discussion around my favorite topics (Sitecore, Azure, architectures & DevOps). The room was well filled and I received a lot of positive feedback. I hope I've inspired a lot of people to look into the possibilities of a more Cloud native approach, enhancing cost efficiency, flexibility and scalability. After all, that's what we're aiming for in modern architectures… and how our solutions might end up extending the future Sitecore stack, thinking about the SaaS announcement I've started this blog post with.