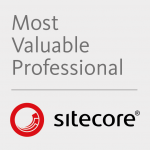 For the second year in a row, I am happy to announce that I have been awarded the Sitecore MVP Cloud award 2017! Yes, that's right, Cloud! Being one of only 10 Cloud experts worldwide to be named a Sitecore MVP this year, among over 10,000 certified developers in Sitecore's network globally, is very exciting.
As a Technology MVP last year, and as a Cloud enthusiast, it was my personal goal to specialize in the Cloud area. Consequently, receiving this very special Cloud award is a wonderful compliment. It inspires me to continue and extend my contributions to this thriving and ever-growing community. Of course, besides my focus on Cloud, I will carry on contributing on the whole technological spectrum of Sitecore.
For more information check out the announcement by Sitecore, and the full list of 2017 MVPs. It's great to see the contributions and community activity expanding every year and The Netherlands is well-represented again with no less than 12 MVPs!
I hereby want to congratulate all my fellow MVPs of 2017 with their excellent achievement and I'm looking forward to another exciting and promising Sitecore year :-).